THE REST REPORT
(Loan Disposition Analysis)

Marketing Bullets:
In addition to delivering complete, enterprise-ready solutions fo Investors, Banks, Hedge Funds and Asset managers, we also provide 'stand-alone' analytics and reports that can be ordered and accessed online by individuals or organizations.
Our most popular individually-ordered report is The REST Report.
It has been used over the last five years by thousands of firms and individuals to assist troubled homeowners unable to afford their current mortgage payments.
The REST REPORT is an impartial analytic tool that evaluates multiple options for a borrower concerning their mortgage.
It determines eligibility for various government and private loan modification options and presents the results in a comprehensive Loan Disposition Analysis report.
In addition to the Product Information contained here, an entire site has been dedicated to supporting REST REPORT licensees which has much more extensive information. (See www.RESTReport.com)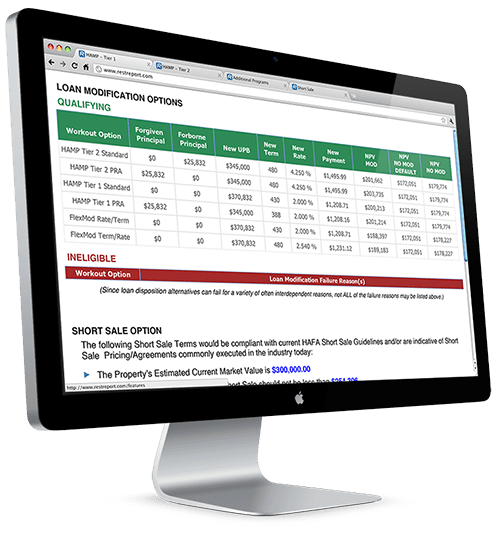 ---
Project Spotlight: REST REPORTS via REST CONNECT
Thousands of attorneys, counseling and mediation firms across the country wanted to provide distressed homeowners with the most comprehensive assistance possible when it came to submitting loan modification requests in an attempt to save the borrowers' homes from foreclosure.
Our firm developed a cloud-based, multi-tenant solution using REST CONNECT which enables all of these firms to access our powerful analytics in an easy-to-use application and obtain a comprehensive REST REPORT that evaluates the borrowers' various loan disposition options.
The solution enables customers to CONNECT II 3rd Party Services Providers to obtain additional related products and services.
It has become THE premier independent solution across the country for accurately assessing a borrower's ability to qualify for various government and private loan disposition options.
The counseling firm collects the borrower's pertinent loan/financial information and the data is entered into the REST CONNECT platform .
A Loan Disposition Analysis is ordered to understand exactly how the bank or servicer would evaluate the Net Present Value (NPV) of any proposed loan modification option with that of foreclosure.
Automated Valuation Reports (AVM's) are automatically ordered by the system from third party service provides to obtain the most accurate estimate of the home's current market value used in the analysis.
An Estimated Property Value / NPV Break-Even report is generated that determines at exactly which property value the Loan Modification NPV would swing from positive to negative compared to the Foreclosure NPV for various options.
To provide the counselors and/or borrowers with a detailed explanation as to why the borrower may not have qualified for any of the loan modification options, an Affordable Mortgage Payment Analysis is generated as part of the report package.
All of this analysis and these reports are generated simultaneously by the system and are made available to the counselors and borrowers within seconds!
Find out more about REST CONNECT and the REST REPORT solution. (These links will take you away from this site to the REST REPORT support websites.)
Housing Counselors and State Entities can also access our whitepaper: The Solution for combining HHF with HAMP