CONNECT II - Our Services/Integrations Hub

Our Services/Integrations Hub (CONNECT II) is part of our FULCRUM Solutions Framework but it can also be implemented as a stand-alone solution.
CONNECT II enables us to easily acquire any data from Third Party Service Providers and integrate it into the overall solution.
In addition to providing direct access to any Third Party-provided reports or documents (such as an AVM Report, a Title Report, Public Record Images, Tax Certifications, etc.) we can also capture any data elements a vendor may supply and make it available, as appropriate, for any analytics or reports.
We have a wide variety of Third Party Service Providers that have already been 'connected' to our platform.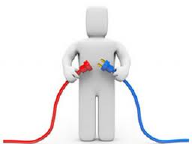 Our customers can either utilize these existing service partner connections or they can have us integrate with a vendor of their choosing.
The 'Request for Data' made to service providers can be initiated manually or be fully automated, - all based on our clients' unique workflow guidelines and/or rules.
This same Integrations/Services Hub enables us to also quickly CONNECT II to our customers' back office systems.